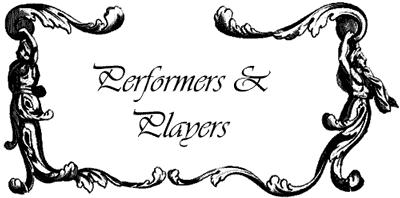 In no particular order.
Roy Bailey
Roy Bailey is a legend in the British folk scene. In 2003, Roy together with Tony Benn were awarded 'Best Live Act' at the BBC Radio 2 Folk Awards, for their hugely successful programme 'Writing on the Wall'. Tony Benn cites Roy as 'the greatest socialist folk singer of his generation'. In the 2000 Honours List, Roy received the MBE for services to folk music. On the 23rd August 2006, he returned the MBE in protest at the UK government's foreign policy with regard to Lebanon and Palestine. He is an Emeritus Professor of Social Studies at Sheffield Hallam University.
http://www.roybailey.net/
Robb Johnson
Boff from Chumbawamba says - "his songs are incisive and clever and witty and you can sing them on your way to work." Robb Johnson is now widely recognised as one of the finest songwriters working in the UK today. His songs feature in the repertoires of a wide variety of musicians, from folk legend Roy Bailey to acclaimed cabaret diva Barb Jungr, and he enjoys a similarly diverse spectrum of critical acclaim – "a modern-day Dostoyevsky" said the US's Dirty Linen, Mojo made the double CD Gentle Men Folk Album Of The Month, while The Daily Telegraph made it their Folk Album Of 1998. The Irregulars are a band that includes Robb's friends Roger Watson on melodeon, Saskia Tomkins on violin, Roger's mate Paul Midgley on percussion and John Forrester on bass and backing vocals. The album 'All That Way For This' is due for summer release, and is one of Robb's strongest and most accessible set of recordings to date.
http://www.robbjohnson.co.uk/
Clayton Blizzard
Thornbury boy Blizzard is a singer songwriter who expertly fuses together folk, punk and hip-hop. Well known on the Stokes Croft underground circuit for his savage yet tender lyrics and sense of humour.
http://profile.myspace.com/index.cfm?fuseaction=user.viewprofile&friendid=52404935
Eirlys Rhiannon
Easton based singer songwriter whose repertoire contains hints of blues, folk, rock and pop, but Eirlys's musical and song writing style is most easily described as genre defying.
http://www.eirlysrhiannon.com/
Paul McCoch
One of the founders of the Easton Cowboys sports and social club, Paul has graced the football pitches of Bristol and Europe with twinkle toes and a devastating left foot shot. Famous for his finger pointing critiques of academics and intellectuals he is rejuvenating his singer-song writing past by stepping onto the stage for Bristol Radical History Week 2008.
The Surfin' Turnips
Piratepunkband. Sea shanties and cider drinking songs. These desperados have become Bristol Radical History's house band, providing the sound track for many of our events.
http://www.myspace.com/surfinturnips
The Red Hot Frilly Kickers
Cancan dancers, bringing a scary touch of glamour to history. Among other events they took part in the now legendary James Nayler commemoration. See the film here.
Website
Who's Afear'd
Dorset's finest tribute band. A tribute to who? Dorset of course.
http://www.myspace.com/whosafeard
Martin Maudsley
Director of Bristol Storytelling Festival, Martin runs regular adult and children's story telling events at the Scout Hut on Redcliffe Wharf.
The Bridport Daggers
Not so much a pirate reenactment group as actual pirates. Aaaaaarrrrr. But do you know what a Bridport Dagger is?
http://www.fyi.ip3.co.uk/
The Cube Orchestra
An improvisational and avant garde orchestra based at The Cube Microplex.
http://www.orchestra.cubecinema.com/cgi-bin/wiki.pl
Leon Rosselson
Singer/songwriter.
The Blew Regiment Of The Sealed Knot
Took part in the now legendary James Nayler commemoration. See the film here.
http://blews-ltb.co.uk
Gunners Mate
A sea shanty group from Falmouth. Including Harry the Hurdy Gurdy.
http://www.youtube.com/watch?v=k1ywZrMf7AQ
The Harry Browns
Sea shanty group.
http://www.harrybrowns.org.uk/4613.html
Available Light
A Bristol film production house that have made many programmes on local history.
http://www.availablelight.tv/
Red Notes Choir
Red Notes Choir is a Bristol-based socialist choir which campaigns for peace, justice, freedom and internationalism. We use the streets of Bristol and further afield to spread our message of fighting for the rights of working people, those who are oppressed, and those seeking the right to self-determination.
http://www.rednoteschoir.org.uk/
Jasper Johns
An artist and shaper of metals, Jasper Johns recreated the Arcram hammers for Bristol Radical History Week 2006. See the hammer film here.
www.jasperjohns.co.uk/
Bristol Wireless Project
Bristol Wireless Project work at the heart of the carving out of a virtual commons, providing tools and training for communities to liberate themselves from the tyranny of vendor locking and proprietary formats. See more at http://www.bristolwireless.net
The Easton Cowboys & Cowgirls
The sports club from which BRHG started and suplier of many of our speakers, performers and players.
www.eastoncowboys.org.uk